Cute Butter cookies
After many tries.. finaly I managed some butter cookies with my disney cutters w/o breaking the ears of t6he piglet and face of the tigger... GGuess the trick is add in more flour to the dough and really chill it well.. of cos the cool weather this few days helps too.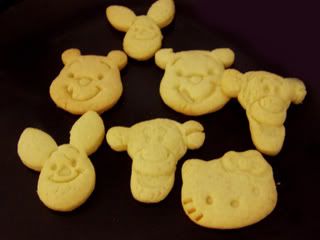 Gave them away to the kids... they simply love it.. prob due to the cute shape hehe
And here is 1 more of the pralet i did.. I hope u r not getting bored viewing it since I got more orders of this coming up.
Using my left over sugar paste flowers... I love the 'sweetie' look of it thou my frosting werent that neat cos I frosted the cake while its cold. the frosting kind of harden really fast since it contain a high amount of chocolate.