My bakes for today
With the hectic week for the past few days...
after settling the pooh cake on friday... when i see guest finishing upt he cake in no time(a whooping 4kg cake), today i have to do another order.
Zijun order a pralet for her birthday... actualy it was quite funnie.. she wanted a cake but she cannt decide what she wants and she say: jus bake what u tink is GOOD.
Since she loves chocolate.. I guess my latest pralet in the menu is just right for her
The yellow wording seem just right for the whole brownish cake. I hope this cake will make her day since she been thru quite a bit for the past 1 year..
Hope she enjoy this w her boyfirned and her family..
Serene ask mi to join her at mum's place today... being a married girl, she no longer can enjoy my bake as often as last time.. and i decided to bake her something to bring home.
Fruit pastry is the easiest.. since I have got all the ingredients at hand.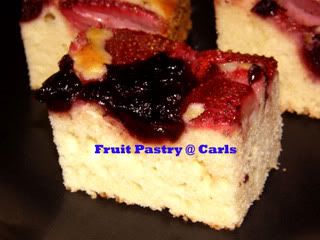 Really resting time till thursday where i do my 1st cupcake order...