Black Forest Pooh Cake
Last month while we went to Bintan for holiday with dear's friends, I got an order from one of our friends.
She req for a pooh bear cake for her boy 1st Birthday...
She did not want the pooh head (which I tink looks nicer), she opted for this.. and thus...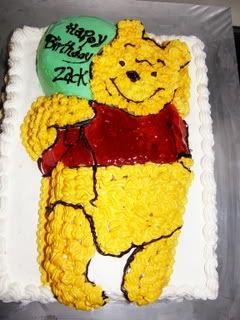 This is not easy fo rmi as compare to the head .. cos this one need finer details sicne the cake is not as big.. and to fulfil her req of 3kg, I need to do a base for the bear resulting int he rect part of the cake...
Thou Im not very satisfied with this yet.. since I thinkt he details really do need some fine tuning... but for now.. so logn as it taste nice.. nothg else matters...
HaPPy Birthday Zack...