Fruit Pastry
It been a craze among the girls to make thi spastry.. and finaly I catch on the craze after lazing around for few days...

Well, I was so afraid that this pastry texture will b way below my expectation as I had earlier on taste dit at Lucy's place. and many of them who tried actualy had a dry pastry... so with all my guts I use my left over strawberries as well as cherries to do it.
Looks nice yea? I also use my new pie tin to bake this... tall and nice now.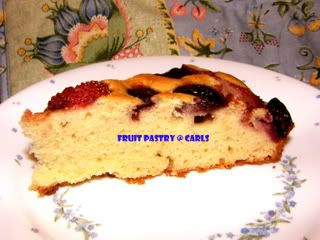 Thou my pastry is not as soft as lucy but I must say it did not fail me.
1 good evidence is I have been eating it sicne it came out of the oven... and.. 1 /4 of the whole cake is already gone.
I hope there is enough to go round when we bring it over to dear's friends' house for the drinking session.
~~~~~~~
Back fr the gathering at friend's house... well all the pastr are gone by time I left... the biggest joke was the guys mistook the strawberry as mushroom cos the fruits all wrinkled up... resulting in the appearance of the underside of mushroom.. and of cos... cherries became red dates... how oriental can guys be huh?? hahaha
~~~~~~~~~
15th July
did this once again.. for Serene to bring home..also giving them to Zijun and my parents when i go bk later on...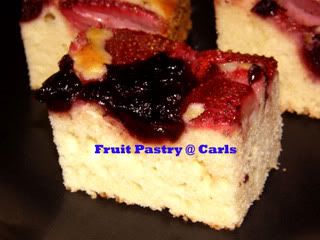 ~~~~~
Teachers Day Order