All About Father's Day
1st... I had to make a durian cake for order... I cant decide what to decor with... so I decided to do apapa face... Purposely din smotthen the face.. since when papa grow one.. surely thr is some wrinkles rite??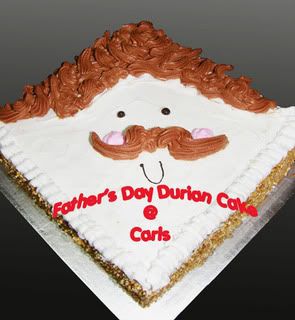 Note: I ask JT on Sunday hw is the cake, review was very good by his folks.. Im so happy
And I was running REALY LATE to cook Father's Day dinner.. I onli managed to buy all my ingredient at 4.30. Dinner starts at 7.30~ with only 3 hours to go....
The theme will be western food tonite.
My menu incudes: mash potato, Garden salad with berry dressing, sauteed mushroom, cream of brocolli soup, Pork chop, steak, as well as champagne sauce for the meats.
In order to create the below
@ 4.40pm
Boiled all my potatoes,
Marinated and tenderise the chicken chops,
cut up all my brocoli, celery, onions,
boil the soup base for soup,
chop up 3 cup of garlic,
Took mi a loong time.. as i need to peel the potato aft tat to mash.. I am crazy enuff to forget that i can use my mixer to Mash them... lucky at the last instance I rem... here u see hw useful is my big big mixer...
By time I fin the above, I need to puree my almost cook vegetables and create the 'cream'.
And adding on cream and such to the soup to thicken.. DARN.. 1 can of cream not enuff... I need like 2 more... SOS serene to get.. so scare she dunnow hich one (which she really dunno) llucky I know which shelf was the can at at the store.. phew...
Oh ya i forgot to marinate the beef...grrr.. and my mushroom..not sliced yet... chopchop fin them all... cook the mushroom as well as the mash potato...
By 6,30 I was hot n sweaty... gotto hav a quick shower.. surf the net a little.. yea surf net.. to think I got the time to do so
By 7 plus when all came.. my cream arrive... yipee!!!
Time to fry my pork chop and e all dig in.... all were too hungry and thus.. lousy pics...
Garden Salad... sauce is from Linda... most of us like the tinge of sourness hehe...
Mashed Potato
Cream of brocolli...
Striploin Steak
We had a great dinner.. thou I think mum was too comfortable in seeing my almost juicy red beef hahaa.. and the pork she complain is way too soft.. notverymuch like pork... bt hey... errrr if its too tough no one want to eat also leh... humpf....
By end of the day I was darn shack but happy
Happy Father's Day too all Papa