Instant Lor Mee
The other day, while I was talking to my friend bout my craving for a proper bowl of lor mee, she told me boutu this product..urging me to try...
The Myojo Brand of lor mee...
Thou not as close as real one she said.. satisfying enuff... and I pick up a bowl from NTUC... after many days, finaly I got a chance to try it.
Just add the 4 pack of condiment in the packing.. add water and stir.. 2 mins later.. u get this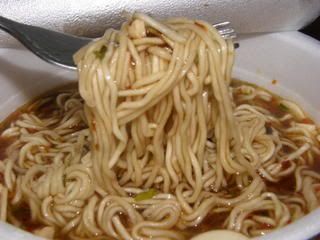 The noodle is obviously not any where near the fresh yellow noodles with the lye water taste we get outside... but a good bowl of lor mee, most importantly lies in the soup and the topping... Again the topping wasnt anything like the original kind.. but the soup is yummy .. yeah ignore the MSG for now ok?? itsnot original.. but then again.. for a instant bowl of thg... I think this is really GOOD... its have the tinge of sourness from vinegar.. and a little spicy as well...
I regret last night..that i bought only 1 bowl.. cos i was so hungry.. I tot i can eat 1 more =)
Time to stock up on my lor meessssss