Pralet
Couple of weeks ago.. Artchoo ask me to try the Pralet at Judy's cafe. She say its very nice.
Last week, i made dear send me down to buy 1 piece to try.. well.. Im nto a chocoalte person..any small amount of cheapo chocolate will give mi sore throat... I can only eat Godiva dark bitter chocolate hehe
Anyway, the cake was good and thus I decided to reinvent it since there is no recipe... With many trips to friend's house, discussing bout this recipe, finaly last week I chance upon this at Lee's place...
This cake is very tedious, u need 4 diff layer. 2 layer of chocolate mousse, 1 layer of Praline Crunch (which needs feulletine), 3 layer of sponge cake as well as topped with a layer of ganache... I did it the same order as I see the cake last week. And I know she added alcohol to it...
Wanting to do this for Father's day but my fridge was kind of full and so I onli managed to do it today in a lazy afternoon...
Used the cherries we got from Carrefour just now as toppings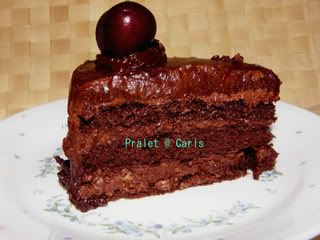 Thinking this shall be breakfast tomorrow, however, after dear had his glass of red wine, he req for dessert and thus.. I slice the cake almost immediately after decorating it.
Dear gave me 9/10 for this cake. he say its much nicer than my very famous chocolate fudge cake...

I had a bite from his cake.. well.. I must say.. almost near to Judy's one hehe.. Im so please... thou Some how.. I think I did nt add enuff alcohol... dear say cant taste(I added 2 tbsp only) and so I think next round i can double the amount hehe...Cos I dun get HIGH eating this as compare to the one last week.
Anyway Im pleased with this cake bearing in mind im no chocolate lover
*****

my 3rd pralet... for fen's birthday


~~~~~~
15th July
For Zijun's birthday
****
My 5th Pralet for Anneli's bday.. morle ike for her mummy and aunties who love dark chocolate
~~~~
mY 6th Pralet
**********
my 8th pralet
An order by Stanley for his dear wife birthday...
Happy Birthday Alicia =)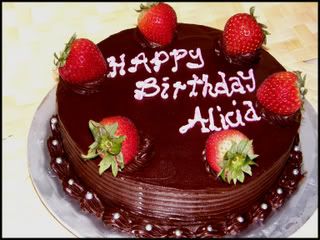 for the elegant lady.. i choose to put in silver balls at the bottom for her.. =)