Tiramisu
My sister req a Tiramisu Cake for her birthday.. smart rite? she noes its gonna b one of the best cake in the world..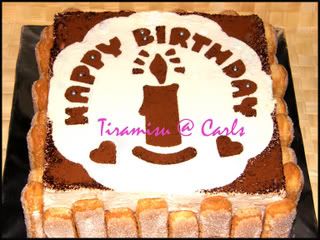 A simple one...
This tiem round im more adventurous, i really add alot of liquor to soak the sponge fingers, in the past i am afraid they turn too soggy... well lucky its not too soggy now either..
and Since we are gg out for Sakura buffet.. I doubt we have space in tummy to eat the cake after dinner... eversince Serene got married, I have to think of ways to let her bring back her share of yummy...
So I made some tiramisu in the plastic cup for her
While me and dear already ahd out share of tiramisu last nite.. a super large cup one too... hehe