白の戀人 aka Shiroi Koibito
Serene brought back some Shiroi Koibito from Hokkaido yesterday... its quite nice except its a tit toos weet... since its white chocolate. However its very addictive. I guess those who went to Hokkaido or Japan would have seen this even at the airport.
I have been procastinating bout makin this since I have not tasted this before. I wan to slap myself for not buyin a box when i was at Narita last year. Anyway... I finaly tasted it and get my butt off the chair to bake this..
this is how the original cookie from Hokkaido looks like..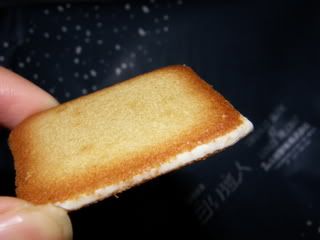 And these are mine.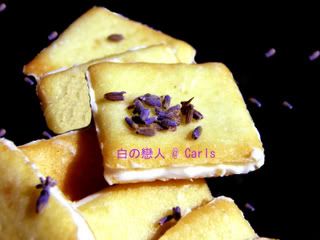 Sprinkled with lavendar to remind Serene of Hokkaido
I would say mine is really not as neat when it comes to the filling part since the filling is not easy to make.. quite messy... since its v oily and u need to make it neatly.. and worse thing is it melt so fast once out of fridge.. I cant never find a way to keep it in its firm form.. but I will try again... Well at least I know I have done this.. I will surely do it again becos we all love this.. esp when chill in fridge.
Tomolo the kids ( my sisters) will get to eat htese.. Bet they will be snatching... meanwhile.. I beenmaking frequent trip to the fridge... poping a few pieces of them into my mouth..
I din even realise I haven had dinner today...