Korean Jab Chae
Go healthy.. go korean... tonight's dinner
Tada....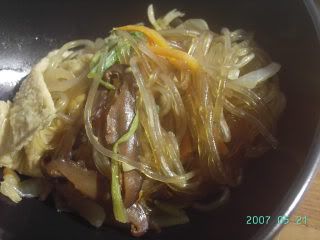 Anyhow cook..still nice heheee...
Before I forgot how i do it... let me record this down...
Ingredients:
2 portion of tang myun- soak in water till soften
2 medium carrot- shreded
1 medium onion- shreded
2 scallions- sliced
1 packet of caixin- blanched, cut into thirds
1/4 cup thinly sliced frozen beef/pork, chicken works too
6 dried mushrooms- soaked and sliced
Fish cake in beancurd skin slicely thinly
Tang myun marinade
1/6 cup light soy sauce
4 tbsp sugar
6 tbsp water
3 tbsp sesame oil
3 cloves garlic- finely minced
3 tbsp mirin
some jap seasoning which i found in the kitchen.. cos i dont have mirin
sesame seeds
fresh ground pepper
Direction:
1. Add sesame oil in pan, fry the garlic till fragrant, add in the carrot, mushroom, cai xin.. then fish cake.. Fry till semi cook.
2. Add in scallions, then tang myun.
3. pour in the marinate... add some water if desire...
4, Serve hot.
***
Did this again today for a gathering...