Mango
As I revamp my blogs.. I also want to do more write up on food related stuff like fruits.
Mainly becos now I have got a better camera, I can snap the pic of fruits.. I dun prefer takign the pix off the net.. in case the owner of the pic get upset bout it.
Anyway... since mum gave us a mango the other day.. used it for the ice jelly dessert.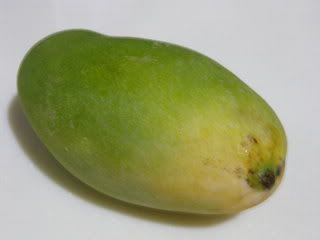 Mango fruits are oval and egg shaped with smooth, soft skin. The skin is usually a combination of green, red, and yellow. The interior flesh is bright orange and soft with a large, flat pit in the middle. Most mango turn yellow when ripe..
its rich in vitamin C, and low in calories. It is estimate per serving of mango contains 40 calories
Rip a recipe off the net
Mango-Avocado Salsa
2 mangos, diced medium
1 avocado, diced medium
1/4 cup red onion, minced
1 tablespoon jalapeno pepper, minced
2 tablespoons cilantro, chopped
1 tablespoon lime juice
1 tablespoon olive oil
salt and pepper to taste
Combine all ingredients. Mix well and refrigerate until use.