Ice Jelly with Kiwi Seed Topping
I know I have posted this before.. many moons ago.. but I can thelp but do a new post today since I did some ice jelly for dessert tonite due to the HOT weather... reason being I got my new cam.. I know I annouced 100 times but im still so happy with it.. so I snap more pic trying to fiddle w the setting and so on...
Well let mi introduce the ingredient use. Or rather 1 ingredient tats being use..
The Kiwi Seed
Looks like sesame alrite?
These .. if u have gone to food court to eat cold dessert..most of the cold dessert comes with this...
U need to soak them in water for a good 10mins... then.. they will form a coating aroudn the seed like this
Looks familiar???
u onli need to topped them over ur dessert.. and ready to b serve.. no cooking require...
Le mi assemble the ice jelly and get ready to serve... =)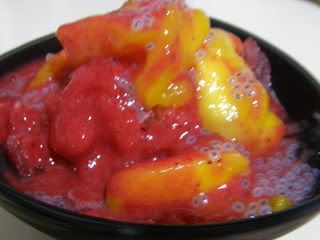 No sugar no lime... cool and healthy...
Lets dig in yeahhhh
Recipe as follows:
25g of ice jelly powder
1 litre of water
Toppings:
fruits such as peaches, mango, soursop, strawberry, kiwi
1tbsp Kiwi seeds (soaked for at least 20 mins)
Direction:
1. Mix water with jelly powder..stir till dissolve and bring to boil.
2. let cool and set.
3.After jelly set.. scoop out with spoon onto bowl, top with ice shavings (I use my blender to crush the ice into ice kacang like txture)
4. Top with fruits ... this time. I topped with home mande strawberry puree.. becos I dunwant to add any sgar syrup or lime to the dessert(for health sake)
5. Top with kiwi seeds.. serve immediately