Vegetarian Curry Mutton
Did a simple 1 pot dinner tonight..
Vegetarian Curry Mutton is always my family favourite when we go for vegetarian food...
Mumw ill always want to order 1 big bowl.. and its not cheap.
Actualy to buyt he raw gluten mutton is not cheap either and the vegetarian curry... I wanted to try so next tiem I can cook fr my family..esp 1st day of CNY....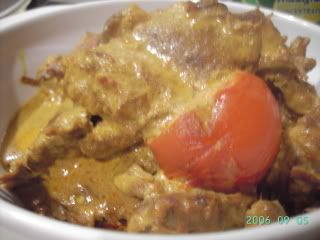 This mutton is very delicious.. so end up I cook 2 pack instead of 1 pack.. cos after cooking the 1st pack. i ate some while waiting for dear.. I sms him say I dunno will b enuff anot.. e say better cook more in case not enuff.. he hardly ask mi cook more... why today ask me to do so leh?? cos he also like...hahahaha..
i added some brinjal... and tomatoes.. yum yum.. the curry quite spicy thou.. and I onli added water n evapourated milk.. no other seasoning.. shiok!