Bluesky Breadmaker
Was thinking what to post here.. since Im more active in my food blog nowadays... decided to post my gadgets slowly here...
1st let me introduce my breadmaker.. Its my Bluesky breadmaker.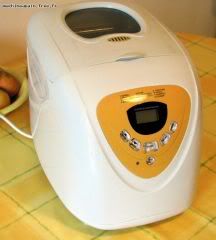 Its a Carrefour housebrand.. the latest I heard of was they are currently out of stock... I got this somewhere this year.. forgot when.. but really good
since all I do is pop in all the ignredients.. press start and then it will knead my dough and proof my 1st proofig.. then I take out shape and put whatever filling I like.. proof again in oven then bake.. yummy!!
Also this breadmaker here is great.. cos it can make jam/kaya... can make many kind of dough.. think it have at least 12 function... I love it to bits..
My kitchen is full house now.. so it is staying permanently in my living room.. soon my house will be over flooded with gadget.. and I think I may need to have a shelf in living room for them all soon...
This is a highly recommended applicaes for those who liek to make bread but dont have a powerful mixer at home...