Donut
Singaporean been crazy bout donut recently... In fact the q is so long.. I think these ppl are insane.. 1 of the insane ones is my sister who q for 3 hours plus for donut factory donut... i tried one of them.. the strawberry one... its kind of too sweet for me...
Actualy i dislike donut.. mayb mum is not the kind who will buy us donut when we r kids.. and we dun like sweet stuff... so i tink as old as I was 23 yyear old.. i had eaten less than 2 donut in my life.. when we were back packing during our summer holiday in Europe, i rem we passed by this dunkin donut outlet.. nice 2 storey dunkin donut shop yeah... since we are back packing.. most of the time our food is very budgeted.. im the kind I willing to giv up nice food so logn as I can buy more things and see more when Im on holiday... and Dear got a dozen donut for us to eat fo rthe whole day.. I tink we had like 4 to 6 donut per pax... gosh.. its as good as killing me.. but i did not protest of cos.. cos I wan to spend the money elsewhere hahahaaa
I ever q once for the donuts at vivocity for say mayb 45 mins... hopin tis as nice as those i had at Batam.. but they disappoint me too much...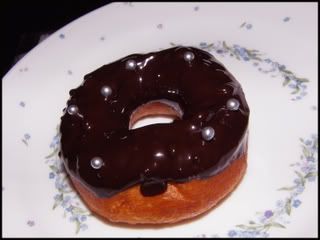 Dear's donut
So I spent a bomb gg for donut class back then.. and have not gotten a chance to make any.. finaly today is the day
Since it needs sourdough as the pate fermentee... I have to get down to making it last nite and leave it to ferment. As the longer u ferment the pate, the softer is the bread, I have no choice but to do so... despite i know i hate the sourish smell... perhaps the fermentation is not as long, so it din stink so much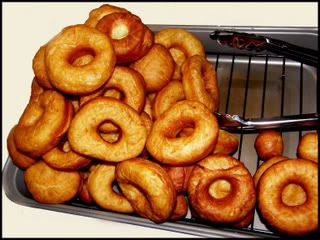 This heap of plain donut is all my hard work.. phew.. when I finaly fin fryign them... I gave a sign of relief.. cos I hate to fry thg... thou it onli takes me 1 min to fry 4 pieces of donut in my deep fryer.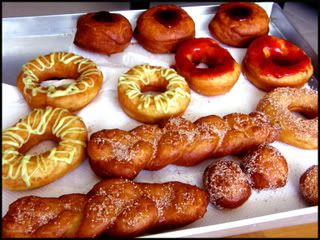 Wasabi mayo donut, strawberry centered donut, cinnamon sugar donut, braided donut, as well as donut balls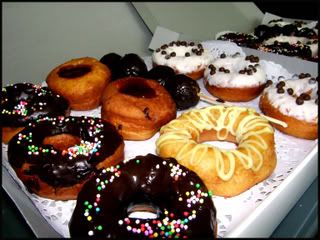 Dark chocolate coated with 100s and 1000s, white chocolate with crispy valrhorna jewels, satay donut coated with dark chocolate.
Bought some boxes last week, and they are the precise height I need to pack the donuts off for kelvin to bring to mum's house to feed my family as well as to give away to friends.. hehe
This is my favourite... strawberry pregel centered donut... the pregel is not too sweet.. so it do not stink my throat... and its sourish sweet taste makes the whole donut fantastic... for that price of pregel.. of cos it should taste good rite?
now.. my donut score for the year...: 2 from batam center, 2 during donut class, 2 from dout factory which caca buy, 2 from the donut shop at vivocity and 2 today.... total of 10 donut this year.. I tink for th enext 5 yr prob .. or maybe even more.. im not eating donut... just making them hehee