Fusion Pork Loin Roll
ought some sukiyaki pork from Giant yesterday.. decided to do this... reinventing it base on my friend's leelee inspiration
Surprisingly my result was good.. in fact.. we ate it just like this for dinner.. We had 8 rolls each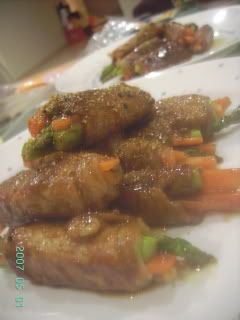 Ingredients:
Pork loin sukiyai 200g
Asparagus 1 Pack (cut to strips)
Carrot 1 no. (Cut to strips)
Marinate:
soy sauce
dark soy sauce
pepper
japanese cooking wine
Some teriyaki sauce (optional)
Potato flour
Method:
Marinate pork with mariante.
Wrap carrot and asparagus with prok and roll .Pan fry till brown. Cook remaining sauce till thicken and serve.
I think this make a very good bbq item too =)