Lor Mai Gai
Did a super easy lor mai gai tonite.. at 12am hehe... for dear to bring to work later on...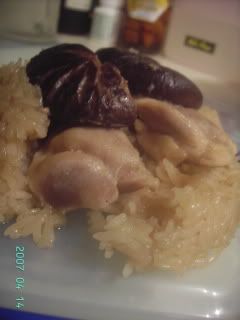 Super easy...
I hope he love it..
Recipe as follows
2 cup glutinous rice
some dry mushrooms (soaked)
1 pc of large chicken thighs
oystersauce to taste
some dash of pepper
dash of fish sauce
sesame oil
2 cup water
Method
1. soak glutinous rice over night or at least 4 hours.
2. marinate chicken with seasonings except oil.
3. Fry chicken and mushroom till slightly cooked with water.
4. Remove and add in rice and fry till rice absorb the sauce.
5. put the mushroom and chicken on a bowl, add the rice on top. steam till cook.
6. Serve hot.