The Jewel Box
After lunch... we had some free time.. since its not alwasy dear bring mi out for lunch on a weekday... quite good.. at least no need squeeze w ppl... and so we went up to Mt Faber...
Went to The Jewel Box.. thinking of enjoying the scenery and have coffee...
Strangely there isnt much coffee variety ont he menu.. and so we decided to have dessert.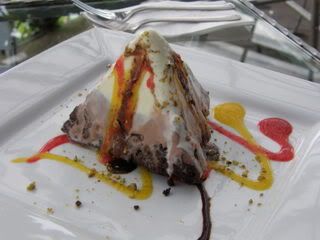 Dear ordered a "Jewel Box
"
While I had a Apple Crumbled Pie..
taste not bad..but service is not good.. they are slow... I fin my whole pie..and my ice water not even here yet.. maybe they know we r not tourist???
tsktsk.. maybe I wun go again... thou scenery thr is Good