3 cup chicken
Made this for dinnr today.. told dear it was 3 cup chicken.. but I was too engross cooking the vege that the sauce dry up.. and dear teased and said.. so no more 3 cup chicken.. I forgot what chicken did he named this thou =p but its yummy!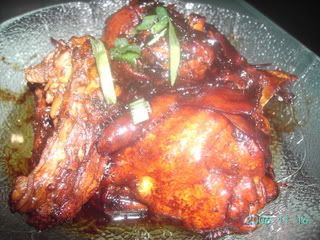 Spicy and a little bit saltish sweet.. fragrant too!
What I did was:
Marinate the chicken pieces in light soy sauce (I use kikoman)
In the wok, Add 1/2 cup of sesame oil(by right should be 1 cup since its 3 cup chicken), fry ginger, garlic and chilli till fragrant, add in chicken and fry lightly.
Add 1 cup of wine, 1/2 cup of premium soy sauce and 1 tablespoon of premium black sauce and 1/2 bowl of water.. let it simmer till almost dry.. and serve!
Amchoor cabbage
This is actualy a very indian dish.. Ilost the recipe.. so I did it base on my memory
my friend just share her grandma recipe with me.. gonna try it soon =)