Merry Merry Xmas
Today I broke a record.. I baked and iced 3 loggies in 3 hours..including washing up!!! hehe and I copy linda's design for the loggys after some eye poer experience from her house last nite... she taught me how to roll the log properly.. oh my.. she is a genius haha...
Anyway here goes...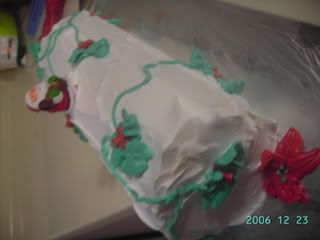 Loggy for BBQ at Agnes house...
Loggy ordered by Eileen
Loggy ordered by Yanyin... its a very last minute order and im glad i did it! yipee!
thanx people!!! Esp Linda since she taught me how to makea nice roll...
See...
nicer rite??