Finaly I managed to cook dinner for ourselves..
i bake, cook and chat whole day.. so tired after that...
chicken with wincarnis.. very good!!! tasted like chicken essence with sesame oil smell
instead of grilling it, i steam it so it got more juice.... added black fungus and also mushroom.. yummy..regret no put more mushroom
this is cod with miso... decided nxt time dun do this,, do salty for us.. and I liek the steam version with rice wine residue best!
they are also oily by nature.. i dun like the texture like this...
this is fried potato leaves..very good!!1 i added more fermented beancurd so the taste is more intense!! wow....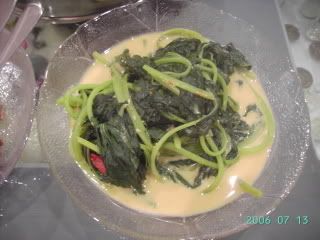 not forgetting my favourite brown rice.. my rice container empty and i never topup with white rice.. unles si use them to make rice wine...
brwon rice better fo rhealth..more filling.. i swear by it since last year