Mutton kebabs turkish style
I tried this recipe from the Turkish cookbook today...
very good!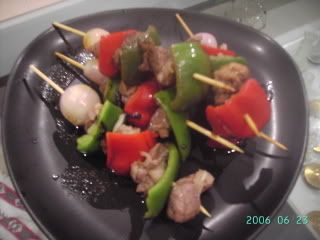 Looks so colourful rite? Actualy recipe call for grilling over charcoal but aiya forget it lar.. i pan fry it lightly... thou mess up my stove but oki lar aft that i MV is for 30 sec just to cook the onion a bit... dear like it... Fen and Bao tried also... =) verdict is good!!!