Food and Wine Gourmet Dinner
Yesterday Dinner...
Table setting
1st dish:
Barbecued Whole Suckling Pig (片皮脆皮乳猪) Paired with "Amadeus Cabernet"
Predominant flavours in this dish are sweet and savoury, with an underlying richness of pork fat.
Description of Amadeus Cabernet: An exceptional pre-vintage growing season and mild summer resulted in perfect conditions for the Amadeus block. Low yielding and hand picking to select the best vines had produced a richer style than previous vintages. Barrel fermentation in French oak has integrated the rich fruit with the soft tannins associated with fine grain barrels selected from French oak forests. Bottle maturation in our temperature controlled cellars has enabled the wine to soften and become complete. A wine to be enjoyed now or can be cellared for many years.
2nd dish was:
Xiu Qiu" Red Braised Shark's fin (綉球紅燒排翅) Paired with "Black Thursday Sauvignon Blanc"
As a result, this is a luxurious "stew" which melts in the mouth with richly intense flavours that magically combine the flavours of both sea and land. Predominant flavours in this dish are savoury, salty, with the gumminess of dissolved protein and collagen.
By Jo: The fins are long n huge.. must be a huge shark uh?? nice nice.. the white is good too.. white wine that is light... by 2nd dish Im all red already...
Black Thursday Sauvignon Blanc
Description of Black Thursday Sauvignon Blanc: The coolest summer and driest autumn on record provided excellent growing conditions for Sauvignon Blanc prior to harvest which resulted in a fine balance of sugar, flavour and acidity in our vineyards. Disease free fruit and a quick decision to pick the grapes in the coolest part of the morning has resulted in retention of all the varietal fruit characters one expects from the Adelaide Hills.
3rd dish:
Stuffed Abalone in Cream Sauce (乳汁鳳眼鮑魚)"Corkscrew Chardonnay"
The cream sauce adds a whole new layer of flavour to the sweetness of the shellfish, picking up its intensity of flavour and smoothening it to a creamy finish in the mouth.
Predominant flavours in this dish are the rich flavours of abalone – a salty sweetness coupled with a luscious creaminess from the sauce.
By Jo: Look at the abalone... very small but VERY NICE!!! the minced prawn filling is yummy.
Description of Corkscrew Chardonnay: The ninth release of Chain of Ponds' nationally and internationally acclaimed Chardonnay is the culmination of our two decades of cool climate viticulture. 100% barrel fermentation in fine grain French oak barriques (225-litre capacity) and storage on yeast lees for 10 months has integrated the delicate fruit characters with subtle toasty oak flavours.
4th dish:
Cantonese-style Steamed Pink Garoupa (清蒸麒麟東星班) paired with "Jerusalem Section Pinot Noir"
Predominant flavours in this dish are the sweetness of fresh fish and the herbal fragrance of the soya-based sauce.
By Jo: This fish very thick skin... and they cut it up to serve us.. by the time reach me.. its not hot anymore.. dry n tough... i dont like..
Description of Jerusalem Section Pinot Noir: The exceptional growing season prior to 2000 vintage certainly favoured the Pinot Noir grapes from our selected, well drained vineyards in the Adelaide Hills. This extremely complex wine has benefited from an extra 2 years in the bottle enabling the gamey and forest floor characters to develop into a sleek leathery sweetness
5th dish:
Imperial Fortune Chicken (宮庭富貴荷香雞)"Ledge Shiraz"
Predominant flavours in this dish are the slight gameyness of the chicken and the rich flavours of the filling – usually shredded root vegetables and salted pork or ham.
By Jo: The chicken is cook within the salt dough... like beggars chicken alike... a bit saltish... but ok lar..
Description of Ledge Shiraz : This limited release Shiraz has been selected from grapes grown on a weathered "Ledge" of shale in the toughest part of the vineyard for growing vines. Intensely flavoured yet still showing finesse from cool climate viticulture, this soft, velvety wine will age gracefully for many years.
6th dish:
Snow-white Money Bags with Spinach Sauce (綠波石榴鮮貝) "Jupiter's Blood Sangiovese"
Its top with caviar...
Predominant flavours: The scallops are naturally sweet, but the vegetable puree in the sauce lightens the intensity and provides a contrast of flavours.
By Jo: Enclosed in the "bag" are the water chestnut, scallops etc... yummy...
Description of Jupiter's Blood Sangiovese: The cool 2002 season delivered a superb Sangiovese crop and the resulting wine is medium bodied with juicy full flavour and earthy tannins. The lovely deep red colour with purple hints does give the impression of Sanguis Jovis – our blood of Jupiter. Ideal to drink now with gamey dishes or a roast chicken, the intense flavours will develop further complexity with short term cellaring under the convenient screw cap.
7th dish:
Home-town Flavours Fried Rice (猪崧家鄉炒飯)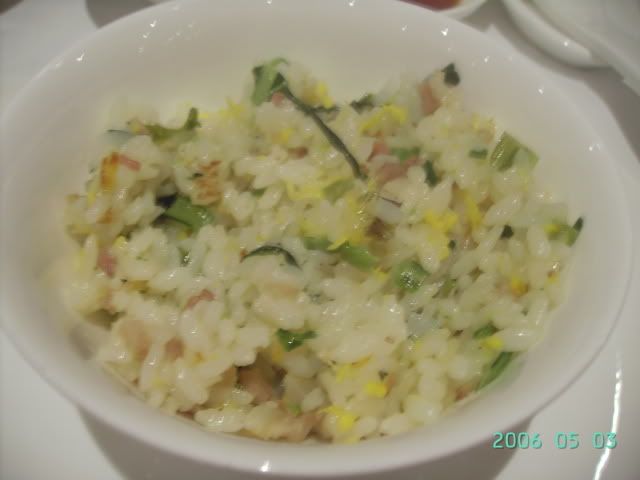 Predominant flavours: Light flavours, with diced vegetables and shredded pork combining with rice to form a subtle harmony.
By Jo: The rice is v nice.. using the prok from the suckling pig earlier... better than fry with salted fish..
8th dish:
Chilled Bird's Nest with Tianjin Pears and Dried Longans (潤喉燕窩津梨蜜)
Predominant flavours: Sweetness from the soup, slight smokey overtones from the dried longans and clean, fruity flavours from the pears.
By Jo: Guess no need to say how good are all these above.. yummy bird nest...
and this dish is accompanied by Yunnan floral tea infusion with jasmine and oesmanthus. Its Pauline's collection
Description of the Yunnan floral tea infusion: Yunnan province in south-west China is known for its excellent teas. Blessed with great geographical and climatic diversity, this province is known as China's tea and herb garden. The Cantonese have long appreciated Yunnan tea – whether it is the health-giving pu'er that is almost staple for any Cantonese dim sum feast, or the lighter jasmine scented green tea.